Mission Statement
Business is personal. We help people who are good at what they do grow their business.
Vision Statement
Unlock the power of referrals to provide economic opportunity and a better quality life for every relationship business.
The History & Science Behind Reach150
Dan Hodges founded Reach150 in 2011. From the outset, Dan wanted to build a company that would provide a systematic and simple way for people in relationship businesses to grow their business through referrals.
Our Name
The name Reach150 symbolizes our desire to apply science to the design of a referral management system for those in relationship businesses. "Reach" refers to the standard marketing term for statistical media reach and "150" refers to Dunbar's number.
The Science Behind Dunbar's Number
Dunbar's number was developed by evolutionary psychologist Robin Dunbar. After 20 years of research, Dunbar theorized that on average a person could maintain active social relationships with 150 people. Whether it was the average number of Christmas cards a family sends or the clan size in hunter gather societies, 150 appeared to be the ideal size of the group with whom one could maintain a genuine social relationship (read more about Robin Dunbar).
At Reach150, our goal is to help professionals and businesses actively engage their sphere of 150 influencers to build stronger relationships and generate referrals for their business.
What We're Building
Today, Reach150 is leading the way by building a systematic and simple way to help individuals and businesses grow their business through referrals. Our referral management system will help you build a collection of client recommendations (with no login required), promote your services to your sphere of influencers, and nurture them by effortlessly staying in touch at key milestones.
Dunbar's Number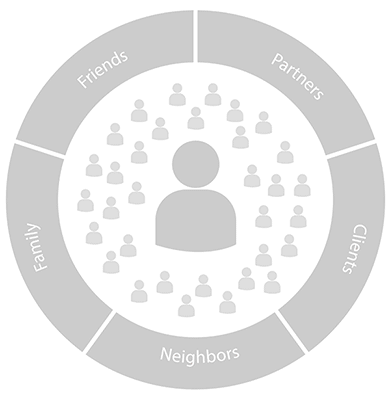 Activate your sphere of 150 influencers